I'm back to finish up my 2009 MLB predictions with the Junior Circuit. The American League has some serious ballers, so it will be difficult to foresee the future, but I'll throw my hat in the ring and give it a try:
AL WEST:
Adding slugger Matt Holliday and having a closer with a 0.0045 ERA (Brad Ziegler) has to improve the A's chances of winning this weak division. The Rangers have decent offense and no pitching. The Angels lost their two best players to two different New York teams. They did sign Bobby Abreu at a discount, but I'm not sure it can make up for the loss of K-Rod and Tex (and John Garland to the D'Backs.) Do I even really need to discuss the Mariners? No. No I don't.
Athletics, Angels, Rangers, Seattle Ichiros
AL CENTRAL: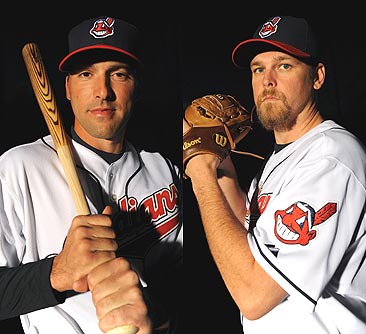 My least favorite division in baseball. I hate the White Sox and I don't care for any of the other teams. The Tigers underachieve. The Indians are inconsistent. The Twins seem to win while playing in the ugliest park in MLB, and the Royals' best quality is the waterfall at their park.
So how do I pick it? Well, I'm going with Mark DeRosa to lead the Tribe to an awe-inspiring division victory.
Indians, Twins, Tigers, Royals, White Sox
AL EAST:
Damn. How do I even begin to pick this division? I see upside to the Rays, Red Sox and Yankees. The Orioles and Blue Jays cannot compete, but the division championship is ripe for the taking by any of the top 3. I like the Yankees spending spree, but I'm not totally sure they have the toughness that used to be filled by Paul O'Neil, Tino Martinez, or Scott Brosius. The Red Sox are good as usual- very consistent and I like the grit that Kevin Youklis and Dustin Pedroia bring. The Rays seem like they will take a step back this year, but let's be honest, they will shock no one if they are playing in October again.
I'm not terribly confident in this one, but I have to try:
Yankees, Red Sox* (Wildcard), Rays, Blue Jays, Orioles
AL MVP: A-Rod
AL Cy Young: Jon Lester
AL ROY: Elvis Andus
So this sets up the Playoffs as follows:
Cubs v. Mets
Phillies v. Dodgers
Yankees v. Athletics
Indians v. Red Sox
NLCS: Cubs v. Phillies
ALCS: Yankees v. Red Sox
World Series: Cubs v. Yankees
I'm not even going to predict this because you know who I'm going with and that probably makes me completely bias. That would be a great Series though- and probably the highest rated World Series ever. Here's to hoping...