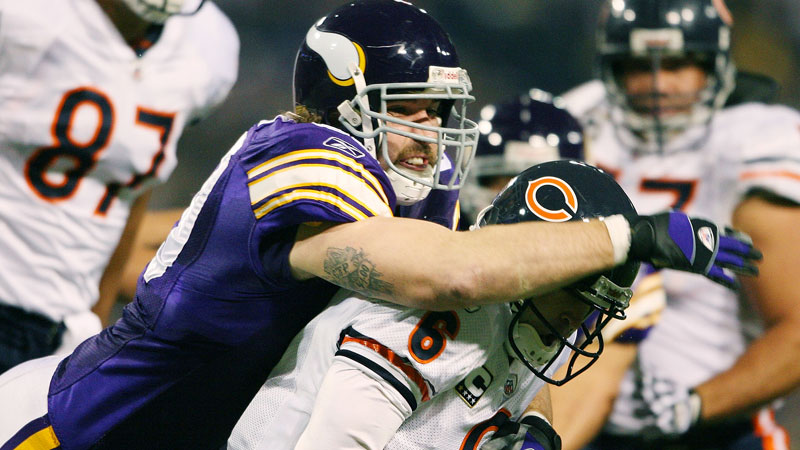 I could use a reprieve from pictures of NFC North defenders taking Bears' QBs from behind (Google image search Rex Grossman and look at the first pic) but of course the Bears offensive line loves giving photographers these kind of poses.
The Bears, yet again, were available to me on regular TV from the comfort of my own home. I am fairly sure this season is the year where the Bears have been most readily available for me to watch on TV. And what a year it's been!
I am officially giving up on the season. I probably did this last week after the loss to the Eagles, but as a fan there is always a hope that Vince Young can come in and lead a team to 5 consecutive victories (oh, crap, the Bears don't have VY.)
So enough is enough. No more interceptions. No more .5 yard gains on Matt Forte runs. No more .3 second protections from the offensive line. No more Orlando Pace showing why he is the least athletic player in the NFL. No more special teams fumbles. No more defensive schemes that get carved up worse than the Thanksgiving turkey you probably ate on Thursday. No more three and outs. No more BORING Lovie Smith post game comments (he is the John Kerry of NFL coaches.)
Even President Obama, who is shown in the new slow motion NFL commercial is wearing a Bears jacket, but you would never know it because the camera angle never shows the logo. Even he knows that he can't show off his Bear-fan-ness for fear of setting the country into the state of emergency ("How can we trust a President that roots for the Bears?- they are terrible!")
But you know what? Is there hope in Chicago? I think there is. Would I make the trade to bring in Jay Cutler again? Yes. He is a quarterback that the Bears can work with, and don't forget that Johnny Knox was part of that deal. What did most people say when the Bears got Cutler? "He's great, but his offensive line is shaky, and he needs more weapons around him." What actually happened? For once, "most people" were actually correct. The Bears need better protection and more weapons. Hell! I'll settle for just better protection and I'd love to see what is possible. Their last ditch effort to add over the hill Orlando Pace does not count as good protection.
They also need to find a balance on offense. I'm sure they have a lot of tape on the Vikings, and they should watch how their division rivals do things to get some idea of what to do.
Their defense is closer to being corrected than their offensive line, so there really is hope in Chicago. I mean, assuming a healthy and rested Brian Urlacher comes back next year, that alone will act as a needed upgrade to help the rest of the defense.
So goodbye 2009 Chicago Bears. I'm done worrying about you, or letting you ruin Sundays. I won't be one of those near-sighted Chicago fans that thinks the world is ending and that Jay Cutler is bringing the apocalypse, but I am someone who likes to watch good football (like I am right now- Saints vs. Patriots- so awesome!)